Day 27! I'm almost there!
Today's theme is Inspired by Artwork.
For me, it was easy to choose an artist to be inspired by. Andy Warhol. My all-time favorite.
But what painting could I chose to somehow represent on my nails?
I did a bit of googling, and one print stood out.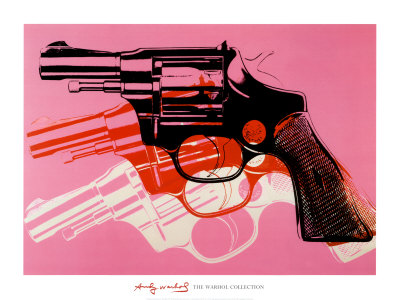 I decided to do like Andy and stamp the same image three times.
I don't have a gun stamp, obviously, so I chose my favorite image instead!
Bows!
I know this manicure is loosely inspired, but I'm actually really proud that I came up with this! I really enjoy this look.
I should have used a brighter pink but it's still good.
The base color is
Orly - Lollipop
, and I stamped the bow image from
Konad m59
with
Sally Hansen Insta-Dri - Whirlwind White
,
Nail Art Diva - Heartfelt Red
, and
Wet N Wild - Black Creme
.
Oh, Andy. One day I will have a house filled with your prints.
What do you guys think of my Andy Warhol nails? I love them!